Newly announced: Witchfynde "Nwobhm" will perform at Blast From The Past Festival 2020🔥
🎵Witchfynde are a British metal Band from the Midlands formed on 'Candlemass' 1976 and who recorded their first album, Give Em' Hell, for Rondelet Records, in 1980. Hailed as one of the pioneers of the The New Wave Of British Heavy Metal ( NWOBHM ) they rocked the world that year together with debut albums from Iron Maiden , Tygers Of Pan Tang , Saxon and Def Leppard .
The band toured for five years in the 1980's and released four albums, but, with most other NWOBHM band, called it a day as the 90's loomed only to reappear with the new interest in the movement in the mid 1990's by band like Metallica who would quote them as major influences on their music. This resulted in a Best Of album being released by Cherry Red Records and the band signing to Neat Records to release later albums .
Witchfynde now are constantly in demand playing festivals in Germany, Greece, Sweden and Italy in the last year alone. With shows booked already in the UK for 2020 and writing of the next album in hand the band are looking forward to the next chapter.
…………….by the pricking of my thumb, something wicked this way comes….Blessed be..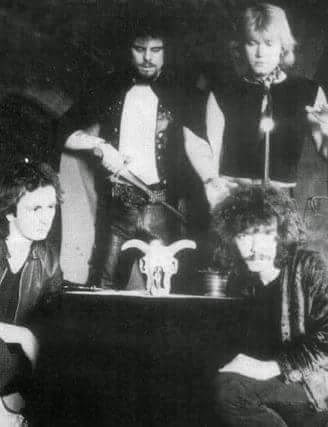 🎶Line Up :-
Luther Beltz – Vox
Montala – Guitar
Gra Scoresby – Drums
Tracey Abbott – Guitar
Ian Hamilton – Bass
🎵Discography (albums)
Give Em Hell 1980
Stage Fright 1981
Cloak And Dagger 1983
Lords Of Sin 1984
Best Of 1996
The Witching Hour 2000
Play It To Death 2007