🔥NEW ANNOUNCEMENT!🔥
The past few days have been craaaazy…
We feel so sorry for all event organisors who had to cancel events due to COVID-19… Who would have ever thought some virus could have such an impact, not only on events but everyone's life has been turned upside down… Big thank you to all health workers, supermarket workers and everyone out there doing the best they can to help.🙏🏻❤️
Don't forget there's a light at the end of every tunnel 🍀
Today, we want to bring a reaaaally cool announcement! To make you all feel better!
On 12 December, Cyclone official bandpage is joining the line-up on Blast From The Past! We are so proud to have both Acid and Cyclone to play on the same stage, both legends in Belgium's music scene!
See you there?!🤘🏼
Stay safe and remember… Save lives by staying at home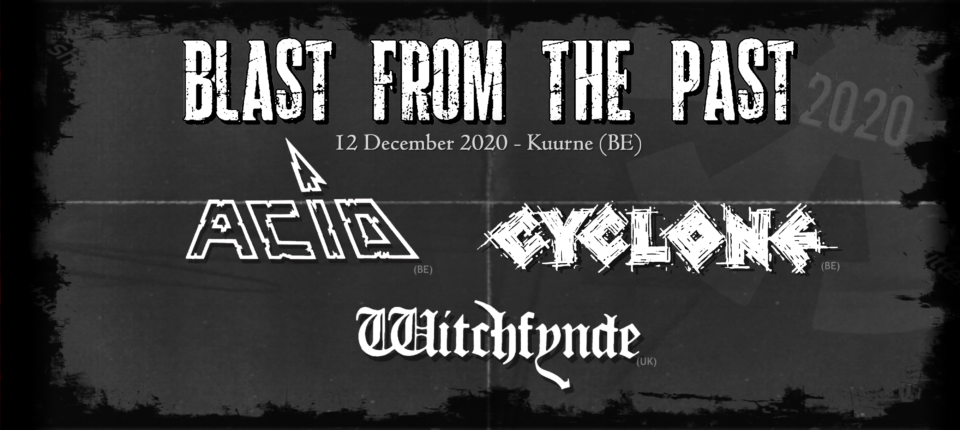 Biography:
It all started way back at the end of 1980 in Vilvoorde ( our hometown ) when i ( Guido ) met Pascal Van Lint whom i knew from seeing at shows, he introduced me to Johnny Kerbush and soon we were hanging out every weekend. I heard that Johnny and Pascal were playing guitar so i proposed to start a band. First rehearsals ( where i sang in a headphone as i didn't have a proper mike ) were in Johnny's room at his parents house with the 3 of us. We quickly got into trouble with the neighbourhood so we moved on to a rehearsalroom and tried out several bassplayers and drummers. It took us until 1982 to find a great drummer ( we still didnt have a bassplayer ), after 8 months the drummer left again so we started from scratch again, placed some adverts and posters in musicshops and a few moths later we finally found Nicolas Lairin who joined in. Allmost emediately we found a bassplayer under the name of Michel De Rijdt who was in fact a friend living across the street of Johnny's ( believe it or not ). So arround april 83 we had a great line-up for the 1st time and started rehearsing the tracks we had written in the meantime, we did a demo with 1st generation tracks that never made the 1st album, but it resulted in our 1st gig at the Lido, Leuven on June 2nd 1984 as support for Acid. From there on it spread like a rapidfire, we had recorded the " In the grip of evil " demo and were offered several gigs, Michel De Rijdt left and our guitarroadie Stefaan Daamen took over on bass a week before we did the 1st gig at the Metalrace competition and our 1st major festival with Destruction in Aalst where we sold the 200 first copies of the demo ( 1st pressing was 200 copies, we had a re-print of another 200, so 400 in total ). Suddenly it was all hell let loose, everybody talked about us and wanted to see us. It caught the attention of several recordcompanies, we went to Germany to lay down some tracks in a session for Shark records, but we turned them down and went for Roadrunner instead. We did 2 tracks on the compilation lp Metal Race and started recording the 1st lp. The release of Brutal Destruction took us a level higher and soon we were playing with bands as Anthrax, Overkill, Agent Steel, Kreator and a couple months later Metallica, Metal Church, Slayer. In the meantime Johnny Kerbush left the band and also Nicolas Lairin decided to leave. Replacement was found in the drummer ( Giancarlo Langhendries ) and rythmguitarist ( Pablos Alvarez ) from Death Squad and we moved on to a european tour with US thrashers Blessed Death. After the tour Pascal Van Lint and Pablos Alvarez left, leaving us as a 3-piece without guitarist, thats where Stefaan Daamen picked up his guitarplaying again and we quiet emediately found a bassplayer by the name of Gert Van Overloop. We started writing new shit and found a new leadguitarist by the name of Xavier Carion, we recorded another demo with new stuff, but we didn't have the click with Xavier who went on to form his own band Bacteria which became Channel Zero later. A few months later i encountered Didier Capelle ( ex – Warhead ) who was an old friend, gave him a listen to the demo and 3 days later he rehearsed for the 1st time with us. We finished writing all the new stuff got a deal with Justice records, recorded the "Inferior to none" lp with Eric Greiff and did out 1st show in more than a year as support for Sepultura and off we went again. But when shit goes wrong your never done, the label went bankrupt it took more than a year before another label took over and finally released the " Inferior to none" cd. We did some extended playing and toured Europe again with Sadus and later with The Accused and The Obsessed. On that tour Stefaan and i decided that we had had it, played another festival with Kreator, Biohazard,etc… and played our last show at a place called Pede, Sint-Lievens-Houtem march 1993, and that was it.

SInce mid 2018 Stefaan Daamen and Guido Gevels started jamming again and were joined by Matthias Debaets ( ex-Indemnity ) on drums. Several months later to be joined by Kevin Verleysen on lead guitar, after a couple months a new Cyclone line-up was completed by Vincent Heyman on bass. Now after a full year of rehearsal we did our first try-out on december 14th 2019. We accepted the offer to play the KEEP IT TRUE festival april 25th 2020 and ALCATRAZ METALFEST august 7th 2020. Looking forward to see you all there….Cyclone lives.