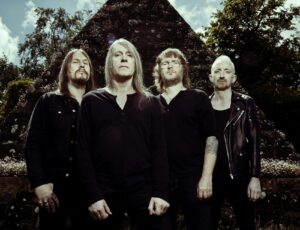 Angel Witch
Angel Witch is a British heavy metal band formed in 1977 in London. They are considered one of the pioneers of the New Wave of British Heavy Metal (NWOBHM). The band released their debut album Angel Witch in 1980, which had a big impact on the heavy metal genre. The album was praised for its heavy riffs, melodic vocals, and dark lyrics. Angel Witch released two more albums in the 1980s, but the band broke up in 1985. In 1997, Angel Witch reunited and released their third album As Above, So Below in 2000. The band has since released two more albums, Angel of Light (2012) and Dooomsday Prophecy (2015). Angel Witch is still active and tours regularly throughout Europe and the United States. Angel Witch is one of the most influential heavy metal bands of all time. The band has inspired many other bands, including Metallica, Iron Maiden, and Judas Priest. Angel Witch is a must-have for fans of classic heavy metal.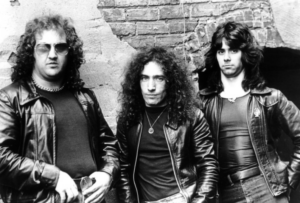 The Rods
The Rods (USA) stands for raw and uniquely American heavy metal! Not familiar with them? Think of a perfect mix between blues-rock/rock'n'roll and Bay Area-style speed metal. Singer David "Rock" Feinstein is not only the cousin of Ronnie James Dio, but has a completely unique and refreshing voice himself. All the way from Cortland, New York they're coming straight to the Blast Stage to let us eat metal!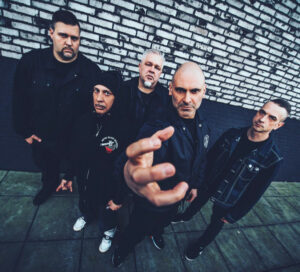 Exumer
Exumer (DE) will bring us their one-of-a-kind style of Teutonic thrash metal! Their edgy riffs, tempo changes and in particular their clear and razor-sharp sound make them a unique and legendary band within the scene. With classic thrash albums like Possessed by Fire and Rising from the Sea, they're a not-to-miss thrash metal band you HAVE to see live, so why not at BFTP 2023?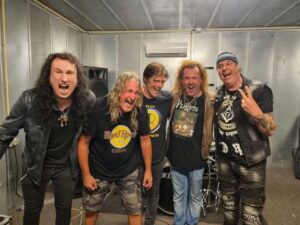 Vengeance
Prepare for a nostalgic experience as the legendary VENGEANCE returns to rock the stage at our upcoming metal festival. Celebrating their 40th anniversary with us, we're honored to present their new lineup! Leon Goewie , John Emmen, Johnny Dooms, Gert Nijboer, Bram Engelen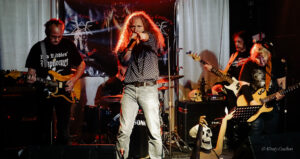 Witchfynde
If that's not enough, Andro Coulton's Witchfynde (UK) is ready to give us hell! The original Witchfynde was supposed to play at our 2020 edition, but a certain pandemic came in between. Now bassist Andro Coulton is bringing new life into these classic NWOBHM anthems that hold a place in heavy metal's collective conscience.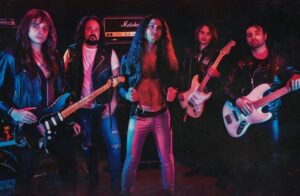 Hitten
HITTEN (ES) brought their awesome heavy metal style to the first BFTP edition, all the way back in 2013. So it's only natural we bring them back for our tenth anniversary. Overtly and unashamedly old-school, they meld their heavy sound perfectly with an acute sense of melody. Don't miss their special Blast from the Past show!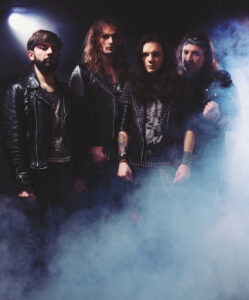 Existance
French heavy metal band Existance is excited to announce that they will be performing at the Blast from the Past 2023 festival. This makes it 7 bands from 7 different countries! Existance was formed in 2008 by Julian Izard (vocals/guitar). The band has since released three albums, including "Steel Alive" (2014), "Breaking the Rock" (2016), and "Wolf Attack" (2021). They have toured extensively throughout Europe, playing at festivals such as Hellfest Open Air, Hills of Rock Festival, and Wacken Open Air. In 2022, Existance joined German heavy metal legend U.D.O. on their European tour The band is currently working on their fourth album, which is set to be released in 2023. The album will be a continuation of the band's classic heavy metal sound, with a few new twists and turns.
Steelover
STEELOVER (BE), formed in the early 80s, is no stranger to success. With Rudy Lenners on drums, who was originally from the famous German band Scorpions, they recorded their first album "Glove Me" and sold over 400k copies to date. Vince, Pat & Nick decided to continue the band's adventure with new members Calin (guitars) and Nikko (drums) and recently came back with a new EP, bringing a modern touch to both old and new songs. Don't miss their electrifying performance at Blast from the Past festival!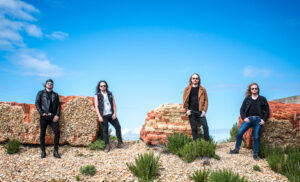 Toledo Steel
Toledo Steel is a British heavy metal band from Southampton. They have been active since 2011 and have released two EPs and one album. Their style is influenced by 80s metal and they are considered one of the leading forces in the New Wave of Traditional Heavy Metal. Their latest album, Heading for the Fire, was released in 2021. The band released their self-titled EP in 2013 and their second EP, Zero Hour, in 2015. They signed with Dissonance Productions in 2018 and released their debut album, No Quarter, in the same year. In 2021, they released their third album, Heading for the Fire. Toledo Steel have toured extensively throughout the UK and Europe, and have played at some of the biggest metal festivals in the world. They are a popular live band and their energetic performances have won them a loyal following.